What do you do when you walk the pits and you are trying to get some manifold shots and Davin Brann tells me he needs a name for his yellow Chevy 2500 Mega Truck. He says, "Nothing to do with Bee." He told us that Axle was a family name and someone who meant a lot to him. A few of the names in the comments were, "Maximum Axle", "Yella Line", "Old Yella", "Salty Dog", "Twistin' Axles", "One Bad Axle", "Sky Miles", "Axle Minded", "Axle Outlaw", and we haven't heard that it was named so keep on sending them in and commenting.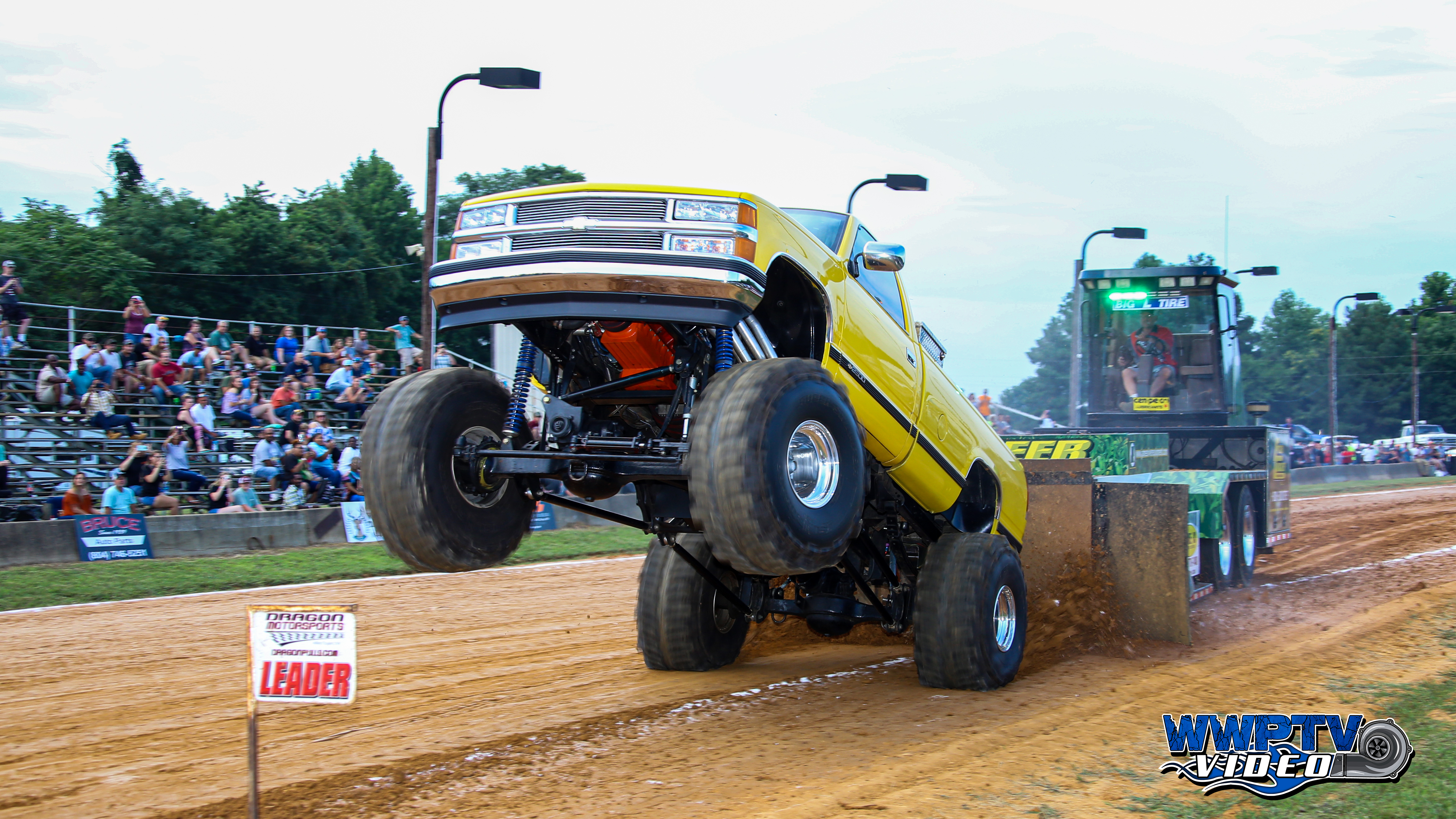 To the action, we traveled 2 hours south to Millers Tavern Virginia for Truck Night and we never get a chance to see these Mega Trucks because they usually come in later. So we got some bonus footage as the stars aligned and we got to actually talk to these guys.

Davin Brann and Butch Self and his 1971 Explorer have been constants over the past few years making the majority of the hooks this class has run. Butch told me over breakfast at a dinner the next morning after a pull that he, "Absolutely loves getting the crowd pumped up!" and "I''m hooked on their cheers." Butch will give the crowd a great pass and then put one or both of his hand out the window and clap or get them to cheer. He is an applause monster for sure. It feeds him better than any fast food stop ever could.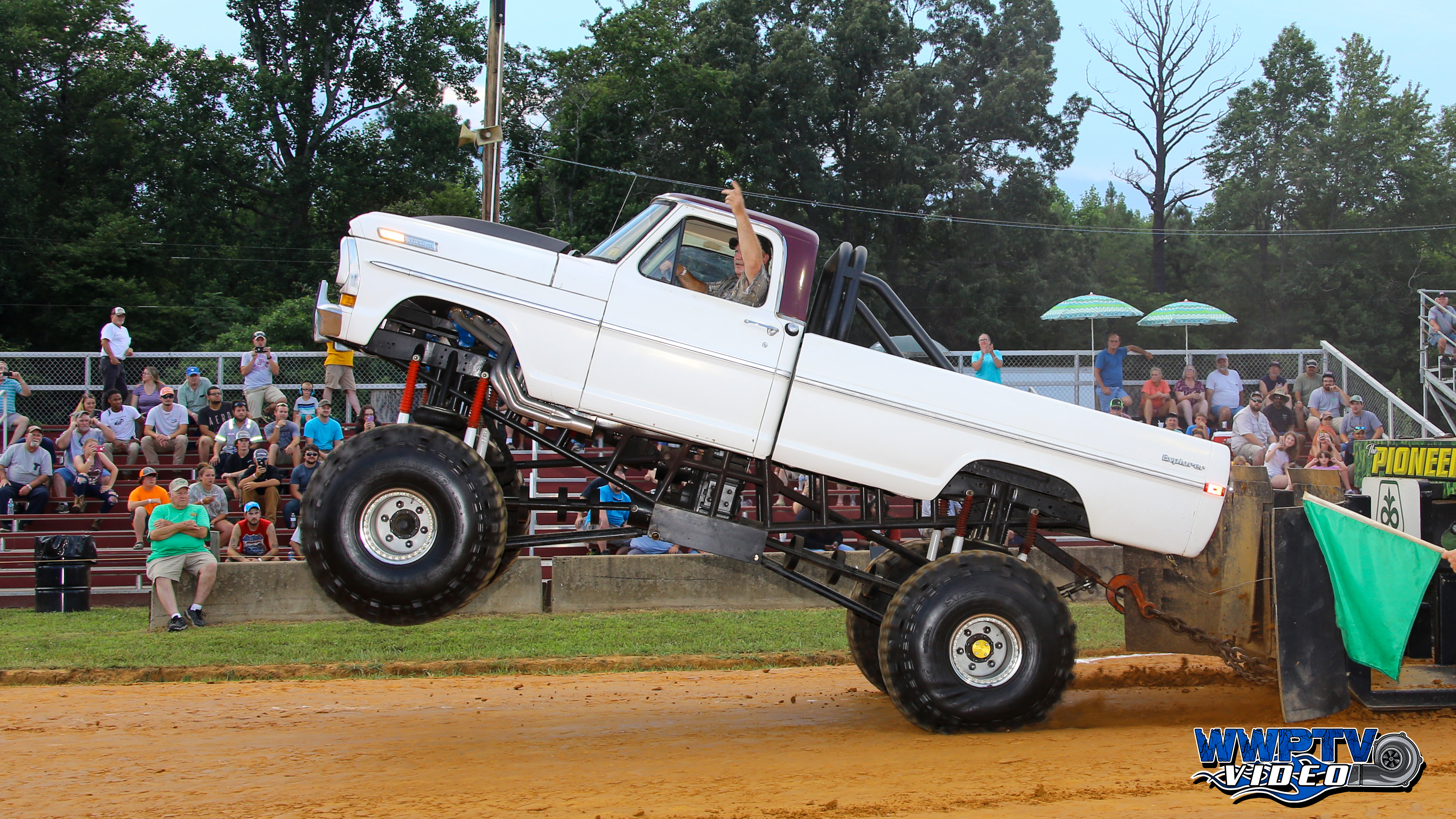 Davin was one of the founding members of this class along with Brian Self and his Black/White Ford as well as the all white Ford with the Cobra on it. Davin has the 1992 Chevy outfitted by Davis Offroad and Lee Edwards racing engines. These are show trucks for sure, but there are not a lot of show trucks that pull 40,000-pounds of rolling weight down the track. Usually 4 blocks in the box will do for this class. And it usually tops out at 275 feet making that weight feel like 80,000-pounds of drag weight. But they carry it anywhere from 330 to 380 to put on a good show for the faithful.
There is one thing I can never give you and that is the smell of the fuel, the smoke and the sheer vibration and applause. These things have to be seen in person. The Southern Showdown is coming up and this is a bucket list event where these trucks that do not run for points break up the Championship weekend with a sea of tablets and phones recording the evenings events. No other class compares to that.
This night saw Tony Cannon who first pulled with us back in 2016 with is all Black Ford and the diesel powered beast did really well. We were surprised when he brought his latest creation out to the track. "Sinister Six" has 6 tires, 6 doors, and 16 cupholders. This the pontoon boat of Mega Trucks. you could have 9 people with you grill out in the back or put a pool and still pull a competition sled. Please put a pool in the back! The first hook was very good going 295. He second hook, he broke his rear. And with 4 tires being driven it's know surprise something let loose. We look forward to this truck coming around to the larger events in the future.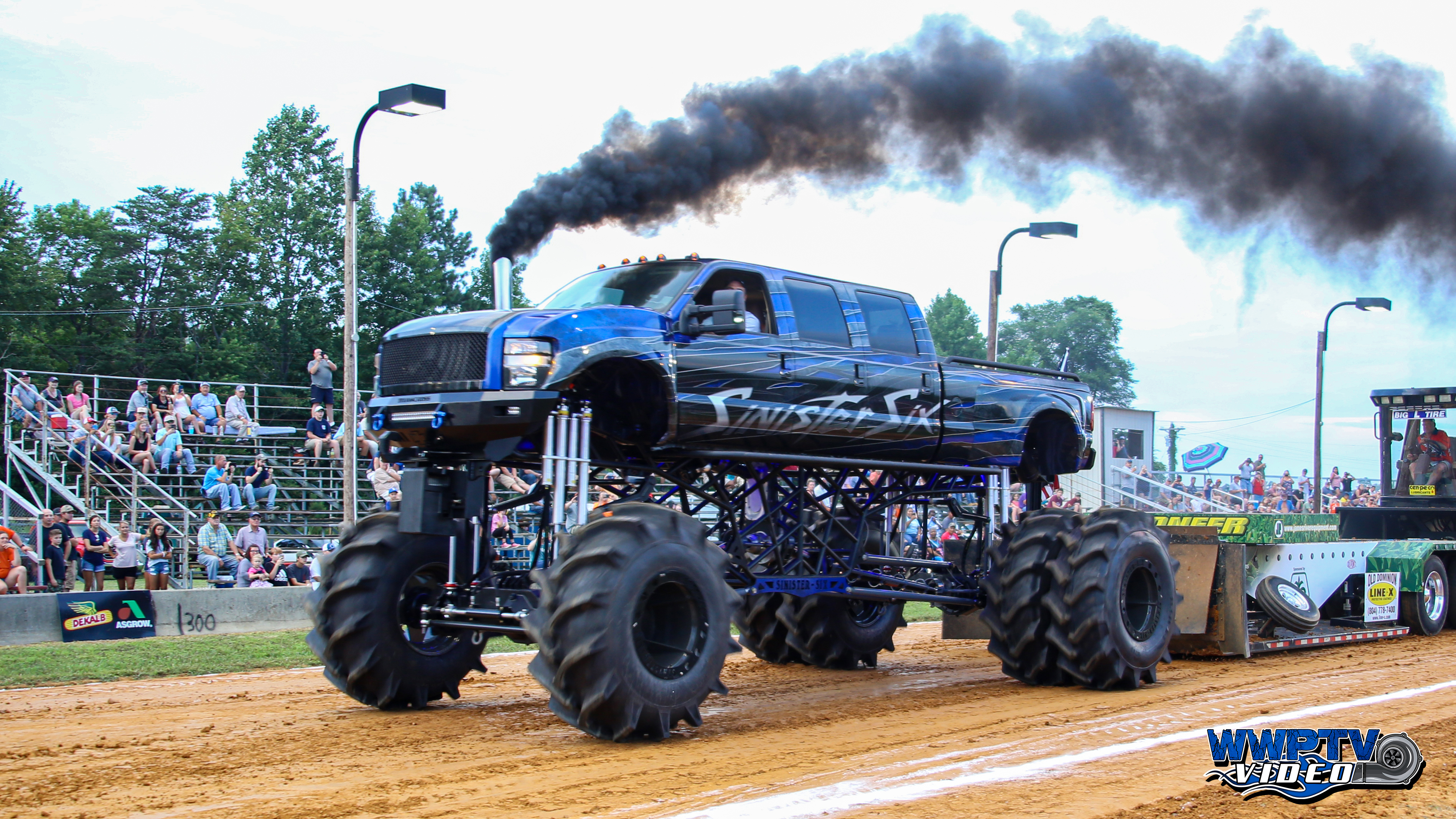 This night also saw the return of Matt Perkins and his "Perkins Diesel" sponsored Chevy. The videos get more comments that "Perkins Diesel" is on the side of a Chevy gasser. Matt was kind enough to come out and lay down some wicked passes. This truck has been around for a long time, but it is always good to get different trucks on the channel and distance as they say, "makes the heart grow fonder". We could use less distance and more distance on the track. Matt pulled for about 750 feet on the night.
Welcome back Matt and Tony.