At the end of the year you need to look back at what worked and what didn't. Change and adapt to what you find. I spent years on YouTube pushing videos, class by class, adding names, distances and results. This my friends is a ton of work. Especially on exhibition classes like RWYB Diesel trucks, Semis, and other exhibition classes. People will say they do not matter, but if they don't promoters wouldn't have them. End of discussion. I changed my format this year to a whole pull format. I figured something out and it seemed to work really well with fans and newer fans. NASCAR has the problem figured out. Not, the banning red necks part, but the singular winner part. They realize we have one winner! Now, I know what you are thinking, "But Will, what about the Saturday night winner? And the truck series winner?" Great points, but for NHRA, and pulling leagues, it is hard to pronounce the best, so we tend to have awards both on the truck side and tractor side of things. But our show seemed to work as we cut out as much as humanly possible, added distances, and results if applicable and only the top 4 or 5.
The results were the most watched minutes of any season. I know, I know, well you had more viewers than ever. But, it takes eyes to make minutes, and hours watched happen. We get paid $0.0035 for every video you watch. It does take a village. But in 2018 the format changes worked. I also went to a thumbnail with a consistent feel. It was horrible idea and a tremendous waste of time! I did re-brand with the Beer Money logo incorporated into WWPTV because we are a big part of their success. We talk to Jason Schultz several times a month about what is hot and what is not. These minor changes brought more eyes to pulling than I have seen on other competing channels. I explained how a mechanical sled works probably 100+ times this year. These videos of lifted trucks we are kind of famous for around here helped bring in a "Truck Yeah" audience. For this reason we have 4 teams to gather footage from the 4 corners of the country this year. Some Drag Racing, some West Coast pulling, and talking to a few other followers who want to see events from their area get recognition they think they deserve. We promoted 36 pulls this year for various promoters including 5 new ones. We reach nearly 3 million people a week due to the onset of Facebook and YouTube growth. We are no longer a small time channel but transitioning into a network. A little kids asked me this year, "So is WWP actually on TV?" I replied, "Kid, what is TV anymore? You can watch TV Stations, YouTube Channels, all on you phone." The majority of our views come from mobile/tablet. We still get a lot from desktop and TV. If Facebook would offer a TV App if would greatly help pulling and the watching of Live Streams, but for goodness-sake, stream it side ways and a hand held stabilizer never hurt anyone.
The followers told us that they wouldn't pay for Live Streams as they could watch their "crappy" friends stream real-time and our stuff in HD in post. I find that kind of discouraging. So we are working on ways to make it free so as many people as possible watch it. Hundreds of thousands not just a few hundred. If you want us to help grow your event, let us know today.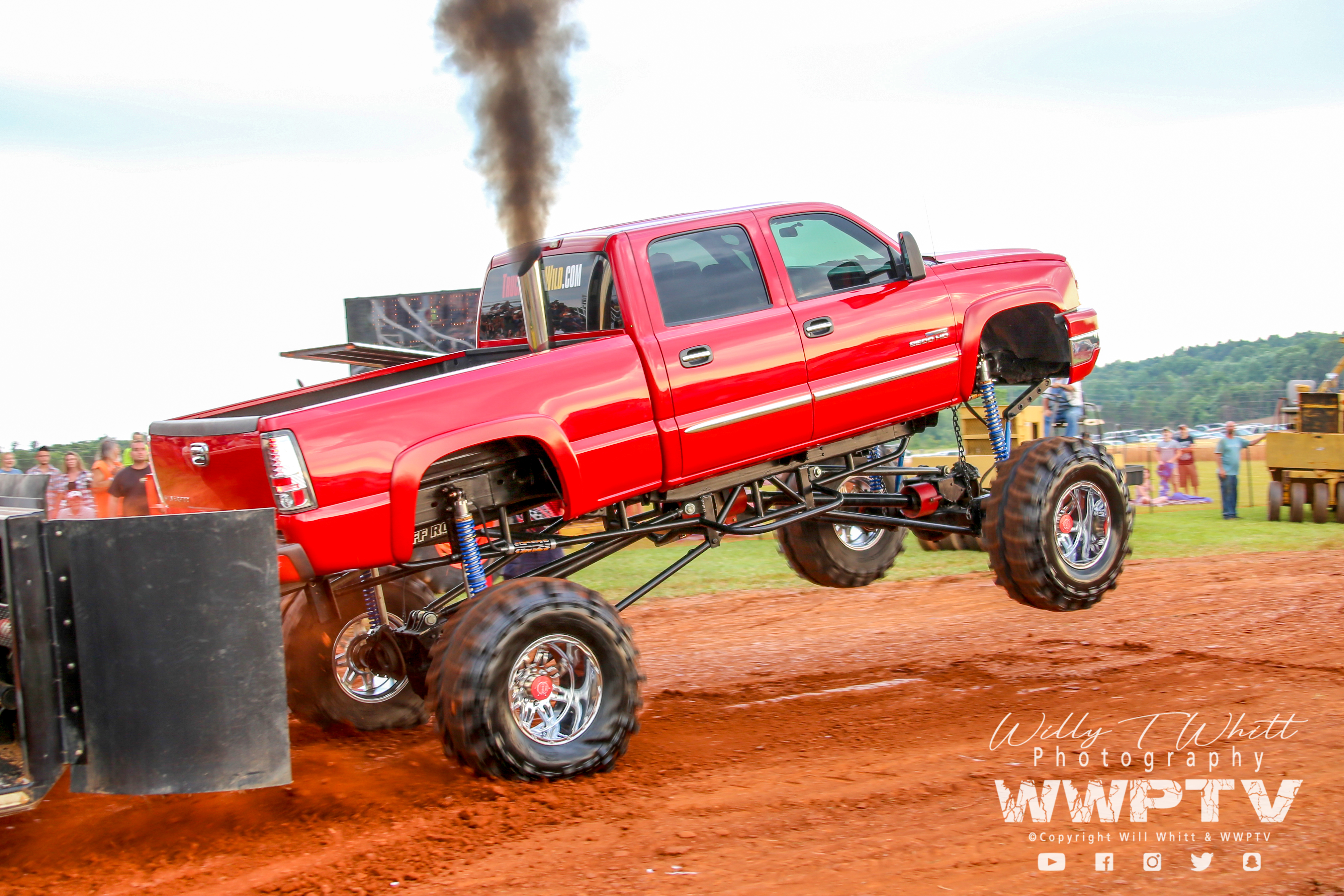 To the video of the year. This pull in Lynchburg Virginia has been going on for a dozen or so years. It is a Dragon Motorsports event that has anywhere from 3000-4000 people on hand to witness the action. I did something I hadn't done in a while and that was launch camera. The battery only lasted so long else I would have used more of it. And the lighting got bad later in the night. The benefactor of this event is New London Emergency Services in Forest just about one minute away toward Lynchburg. Sims' Farm saw a good crowd even though the stormy clouds were some how diverting around the pull. The fans saw local lady puller Shannon Sims puller her International and put a whooping on them boys! That class also saw a very cool John Deere with a V8. Next up was the thumbnail for the pull. The thumb was a picture of Ray Watts and his Duramax HD2500 Chevrolet lifted up by Davis Offroad off Willis Road in Richmond. This picture leap-frogged this video over every other over the past 6 years of work. The furthest pull seemed to go to Davin Brann and his Chevy lifted by the same group. I am only going off of the scoreboard, but again this class isn't for points and all pullers get paid to perform. It is all about style by the way. Davin wen the furthest, Ray went war and jump a tad off the ground and broke his rear drive shaft, and the lone Ford popped one decent wheelie to take second place. It was a Chevy Ford Chevy sandwich. They came back in an encore, but the Duramax was on the trailer. The encore was all jacked up because a ditch running through the beginning of the track. That groove also messed up the next class which was the Super Pro Farms.
WWPTV sponsor and good friend John T Davis and Riverland Insurers put their Mod 4x4 truck The Legend in the top spot for their class. This video also featured our own drone footage in as well. Still need to get those Grand National trucks out here. But they wanted to make a run at the Grand National title defense with the Punisher and the Young Gun. The class still saw 4 of the toughest trucks on the East Coast. Nothing to sneeze at, but if you want to sponsor this class and see them grow, give us a call. We have good running trucks, just need good sponsors with a need for growth potential. You know we can help with that. All businesses associated with us are "GROWING! Big Time!"
Josh Sims and his dad Ed farm this land and take great pride in putting on a good show. The Light Pro Stock class was nothing short of a power fest with a touch of flames. Steve Flint and his Headcase got the 466 cubic inch class started off going 310 and change. The Mike Runkle came in and could have toasted some marshmallows up for us with his old Oliver 88 now Cummins 5.9 powered. Josh came 4th on his Empty Pockets John Deere and went 296.68. Cowboy came later in the Pro Farm class on that same tractor and went 306 with a whole lot more weight on the sled. It was a great night that led to an outstanding video. Want to help grow this class give me a call too. This has the most eyes on it up and down the East Coast. That is a fact and I am a man of statistics!
Keep on following WWPTV and liking and sharing for more great content! If you are serious about your pulling join us. We are looking for talented individuals who want to see the sport and similar sports get and keep coverage so we preserve this for generations to come. I should mention that Josh also hosted a Street Semi class that is also a very rare class. We ran them I think a total of 6 times this year. The video at time of this writing has over 195K views and is a total of 41 minutes long for an impressive 3 million minutes watched. More than any previous year's worth of videos combined. There was another video that garnered over 4 million minutes watched, but that was a fail video. And fail videos are a different class of videos altogether.