Every Motorsport has the opportunity to raise money through sponsorship. But, all the money in the world won't assure you a win. Sponsorship funds can only assist on your journey, providing you couple it with hard work, talent, and perseverance.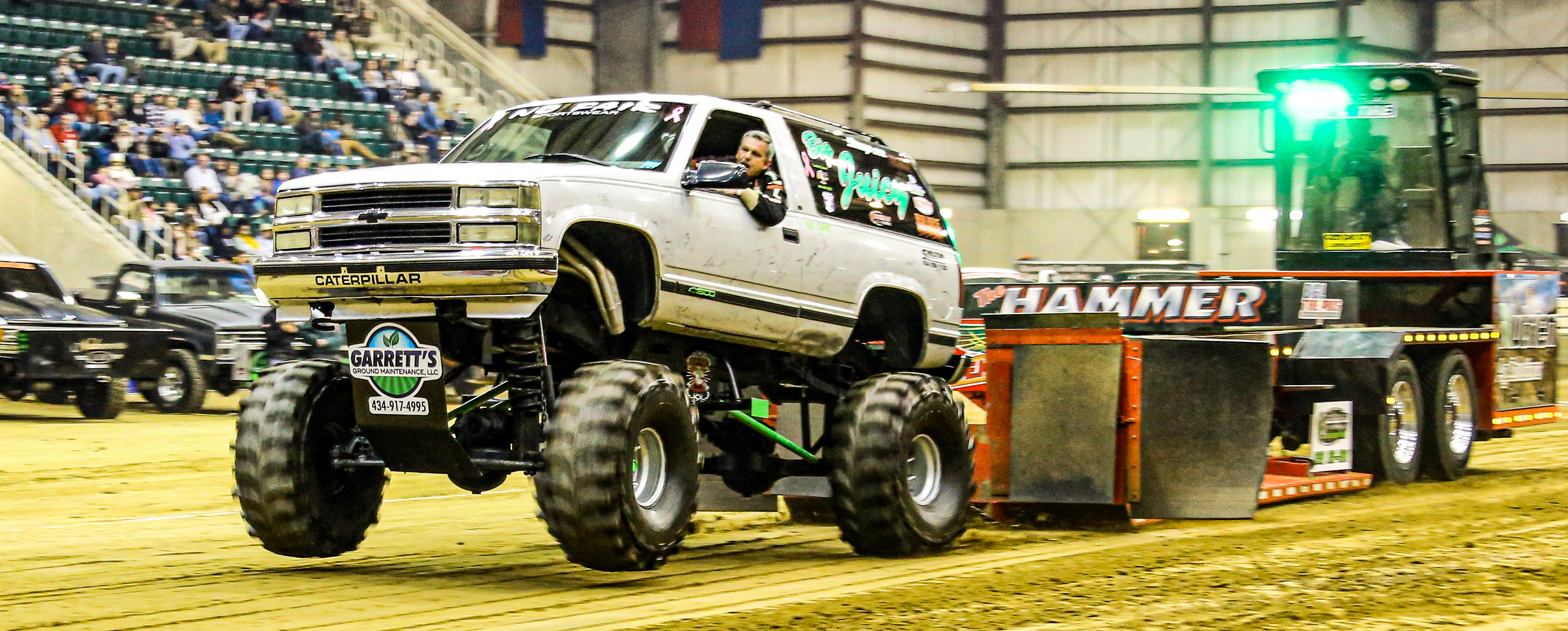 Marketing geniuses are looking for viable outlets to help sell their products. Just open up your phone pull up YouTube, turn on your TV, and watch any sporting event even our videos. Corporate logos are displayed on anything that moves; stock cars, boats, motorcycles, ATV's, even worn by local sporting event staff. Sponsoring for pulling is no different.

Sponsoring products can be anything from soda, to snack foods, to tools, to clothing, to restaurants, and of course alcohol related products. We know that the tobacco industry used to be big in Motorsports until the settlement of the Phillip Morris lawsuit.

Truck and Tractor Pulling is growing in popularity and is getting back to the national levels it had back in the 80's and 90's. This means sponsorship opportunities will continue to improve. Think like a marketing genius for a second, your vehicle, hauler, gear is a billboard. Partnering with sponsors is a win-win situation. The more products they sell the more funds you have the to power you need to win.
Before you begin your search, you must prepare a professional portfolio. This is nothing more than a resume of your past racing accomplishments and future plans. You should include several pictures of racing your vehicle, hauler, and crew. I interviewed Carl Staples back in 2016 and I immediately asked Carl how he, "landed Busch Beer?" And he said that it was a local distributor that he knew and asked for some money. It wasn't long after Carl started winning nationally and the parent company of Busch stepped in and match what the local distributor provided. Carl said you know all your sponsors right now. You just not have asked and provided them the opportunity to invest.
Your photos must depict a clean, professional team. A dirty vehicle and a messy pair of jeans are not the image a major sponsor will want to convey to their customers. I remember one pull I filmed and a guy on the track had light blue jeans and matching shirt. They were brown covered in dirt. No doubt, motorsports is dirty. But if you want the funds you have to impress. Stop for one minute and think of a team that you know that is top notch. Their truck is clean, their vehicle is clean, they are clean. Think of team names that convey success. And then build your brand around that.
You might be surprised how much attention you receive just by wearing team uniforms or matching T-shirts. For just a $15 dollars per shirt, you can purchase a dozen brightly colored shirts printed with the team name and vehicle. For $100 dollars you can have matching crew shirts. This will immediately demonstrate to the sponsor that they are dealing with a professional team that will represent their company well. Use merchandise to help seal the deal. Tell them if they come on you will get them on your shirts. At present we have designed three crew shirts and several dozen tee shirts and our photos have been used on dozens of others as well as class tee shirts and winter event shirts.
Be sure to include a description of the class you intend to participate in, as well as a schedule of events. List all of your accomplishments: rookie of the year, number of wins, sportsman of the year, most improved driver. Some technical information related to your vehicle will also spark some interest: 1700HP National Modified 4x4 Truck, Grand National Champion, etc.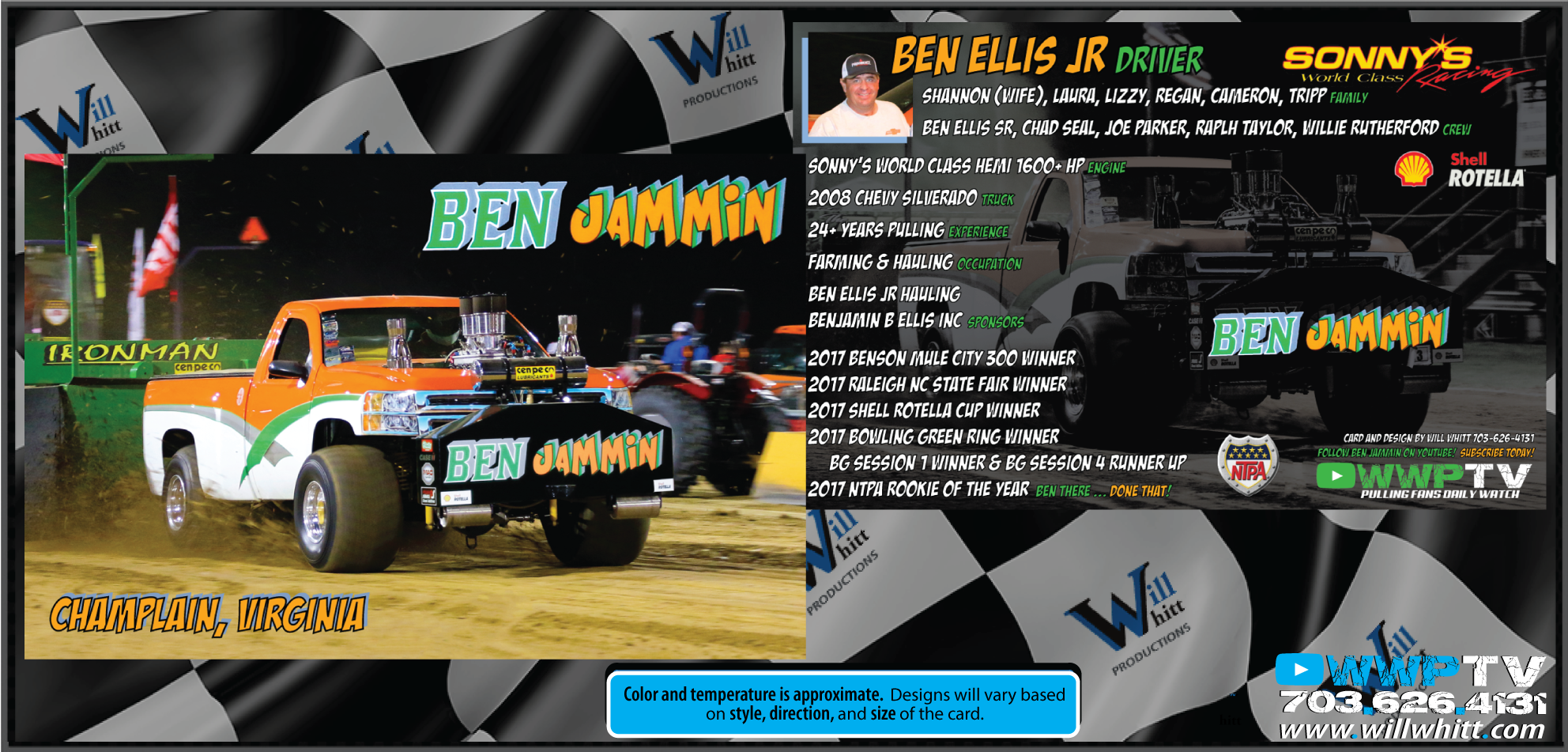 A hero card to hand out to the fans will also show you are committed to the sport and marketing yourself and your sponsor. For minimal cost, you get 1,000 high quality sized 8.5x5x5 fully glossy sides. At roughly $0.30 a card this is a no brainer for giving away for free. Include a nice action photo on the front with crew, stats, and specs on the back. You can also gain fan support by distributing these cards to kids attending t. You may just become the new hero of one of these kids. Give us a call we have designed dozens of these cards.
Set a budget. Sponsors like to know where their advertising dollars are being spent. Outline your annual expenses including the expenditure of the vehicles' safety, mechanical, and maintenance parts. Be sure to include the overhead for vehicle(s): travel, meals, hotels, etc…? Start small; it is much easier to find five companies who are willing to sign up as opposed to one big name sponsor.
No is okay. This is a typical sales job; you should not get down on yourself when your proposal is declined. Keep smiling and move on to the next prospect. When you finally locate an interested party, you should take your marketing plan to the next level. Provide them videos, websites, Facebook Page, and other information that will further promote the excitement of your sport.
You have a deal, time to rest. NO! Now that you have secured the deal, you have to start thinking of ways to maintain your relationship with the sponsor and to keep the money flowing. You must continually promote the sport and your sponsor. Send a weekly updates with results. Prepare a copy of the schedule with your vehicle(s) on it to distribute to your sponsor and their employees. Invite their children for a photo op sitting on your vehicle(s). Provide a copy of that first win photo with the sponsor's logo prominently displayed either on the photo or Photoshop it on after the fact. Also, you need to follow up on your promises whether it be getting them on shirts, crew shirts, or hero cards. It is okay to keep a few hero cards, but the idea is to give them away to show off your vehicle, sport, and sponsors.
If you take care of the sponsor, along with your winning talent, it will become a long-term relationship.