Since I have done this, it has been a while, forgive me if I get it wrong. I drove 95 miles to get to this first-time event for myself that I just had to see. What I found when I got there was a seemingly new facility. Actually, they had brought in new dirt and jersey walls to keep fans safe and pullers with clear organization. With changes comes growing pains. Think of this as Shippensburg 2.0.
I didn't know what to expect but the usual suspects were there to put a show for the fans. And by fans, I mean 3000 people easy. This group had suffered some rainouts and COVID cancellations, so it was good to see. And these fans were treated ... to a show!
13,500 Hot Stock. Focus on the last two words there. These tractors were HOT! Logan Propst and his Ford 8600 stole the show moving the sled about where he wanted it to go on the track and put 3 feet on Jere Hissong and his International 1066. Tommy Eppard Dragon Altered Farm tractor came over said, "I should have brought the Snortin' Horse Ford to see what it can do because man these tractors are HOT!" Also, Tommy gave me a ticket to pilot the Snortin Horse so that will happen in the future. Semi, Light Limited, Altered Farm, hmm I wonder what is next to try to tackle?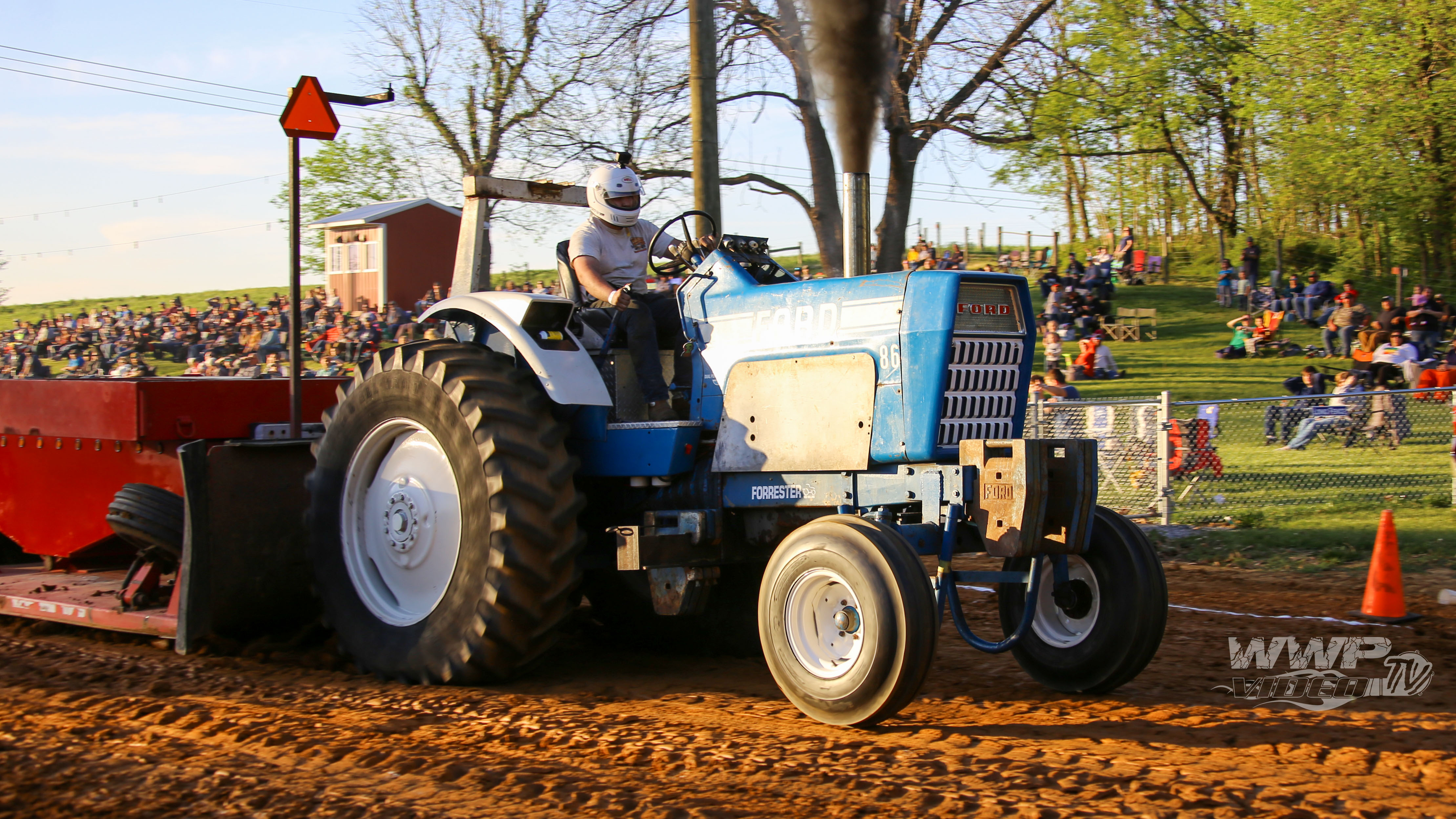 Construction mode on. Darren Olden then took the grader and mixed in the new dirt with the older dirt and brought some life to the track. All the while the moisture levels started working with the new dirt work to make a completely different track for the next few classes. The track crew rolled, and scraped, and lined the track and we were back to it.
4500LB Small Blocks are beachy bad boys now. They have pulled literally up and down the coast. Recently the whole class went down to West Palm Beach and put on a show there. The first night was a wash as they were light with a tough hitch placement and they couldn't get the sled moving like they wanted. The second night they were dialed in. Travis Eutzy was dialed in! Travis continued that streak last night at Boonsboro. Chris Eutzy pulled first and went 284 and some change. He dropped the sled was set. A few hooks later, Sam Hassler came back to the ranks of the 4500LB trucks and laid down a huge run of 305.61. Travis went after Sam and built a road, going 317.75 and keeping the Eutzy brothers looking primed for a strong 2021. Oh, by the way, the next hook was Denny Stoner and he laid down a 315.19 for a strong second place. All the other pullers seemed to fight the track trying to get in the groove, avoid a few soft spots and a few dry spots and find some dirt. EDIT: Chris Eutzypulled first originally I said Travis pulled first. Chris and One Bad Bow Tie dropped. I had it wrong on my result sheet.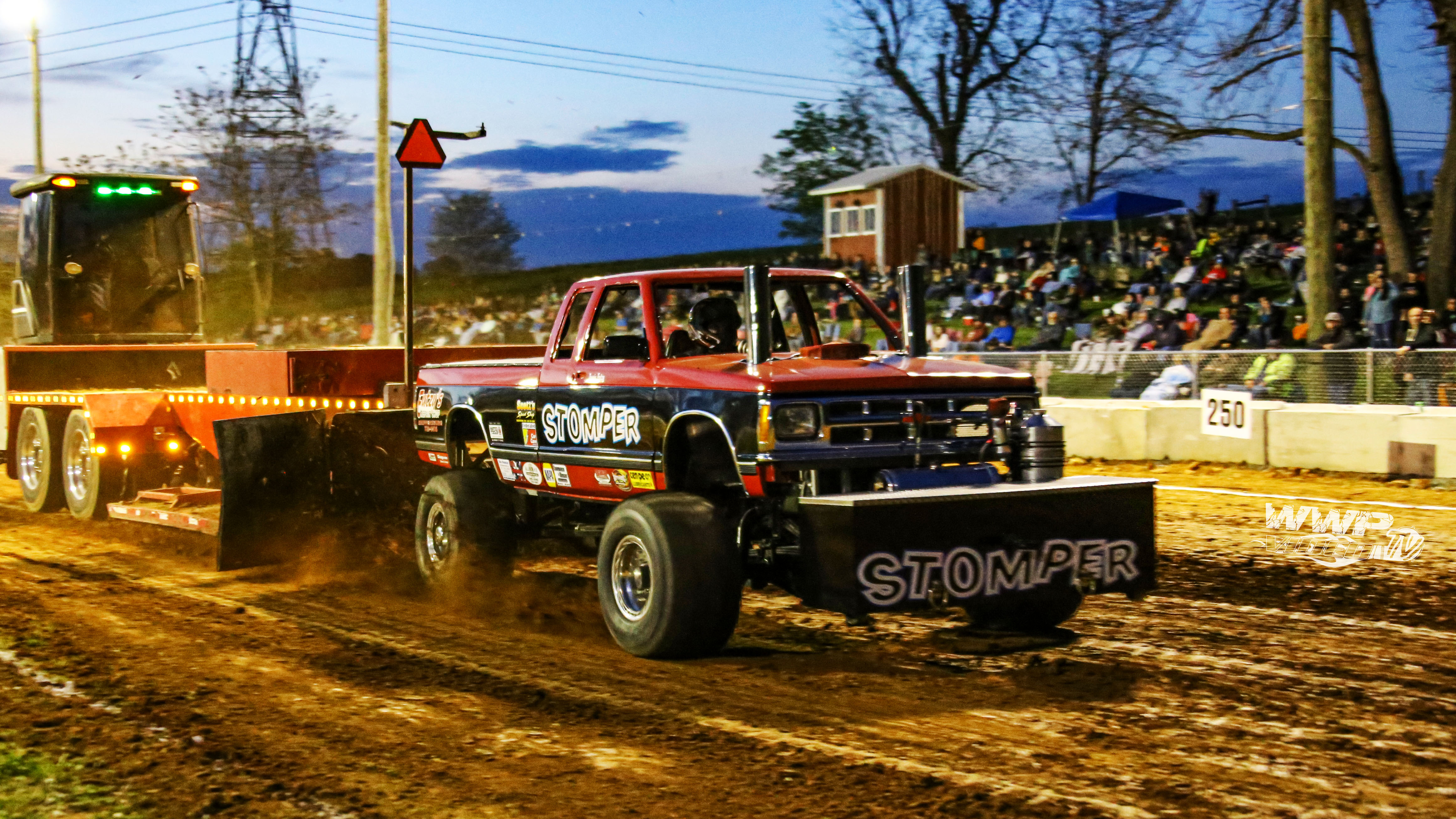 7800LB Modified tractors came next. The spot of contention came with a Ricky Blizzard run. Ricky ran his B-E-A-utiful Ford in a line that scared the daylights out of me. Well, I am used to it. Let's just call it like number 8. I like being 10 feet off the track and I felt the ground pound underneath of me just like I like. So Ricky pulled a center-to-right groove and ended up right by the line. Now the flagman saw chalk and Ricky's tire seemed to be white, but what I think happened was the buckboard hit the chalk and Ricky's tire hit the buckboard. Hand on the Bible that is what I saw. Carl Palmer said he saw white and threw the flag. Carl asked me what I saw and I said his tire is in fact in. There was white on the buckboard so it stood at 304.00. Things you should know about me and this: I will answer any questions you ask of me. But only when an official asks me as the other person opposite them. I will use math, physics, and my brain. Amber Blizzard came in and finished 3rd going 284.09. Now, I wanted to give you a serious pulling update. Ian Erricker is prime time! Ian over the last few years has added several machines to his former Doritos stable/trailer. Ian has spent time in the seat all over the country pulling. Also known as Fabio, Ian has a new haircut that is making him even more aerodynamic. All this time in the sand in Florida and Alabama has made him a tough tough puller. On this night Ian found a groove in his Unstable modified and went 301.04 to win the show.

Oh, and Ian Erricker also took the 2 Wheel Drive class in his Villiage Idiots truck going 297.87. All this seat time is really working out for Ian. Jason Forrester lent his seat in his 8 Up Diesel truck to Eddie Ocker. Eddie has put in so much work on this truck, that he has earned some time on this truck and several other Forrester rides over the past several years. Eddie Ocker congrats on your 281.35 and second-place effort.
Heartbreak. This is where hearts tend to get weak. The Green Max/Virginia Beef pulling team suffered a great loss Saturday night. While readying Firestorm for the event, Tommy Williams lost the engine in the International 966+. And nothing could have been a great blow than perhaps losing the frame of Jimmy Williams and Green Max. Jimmy took the John Deere off the line and about 20 feet into the run, the whole front end came loose and fell under itself. The tractor rolled slightly over and ended up on the front frame and the newly purchased Allison sled. It took roughly 45 minutes to disconnect hoses, lift the remaining tractor, pull the vehicle backward, and loading it onto the Olden's Three D flatbed. All remaining parts were loaded into Tommy's truck bound for Haymarket, Virginia.
Vern Zerby was a man on a mission on this night in Boonsboro. Going 1, 2, and 3 in the 8500 Mod Turbo class. Pretty sure he had the Stig driving for him on 00Z. Anyway, this mystery driver helped complete the sweep pulling a collective 398.06 feet. I asked Vern how he's been and he said, "Busy, just things are crazy at the hospital." Vern is on the front lines in one of the biggest fights of our countries history. He said, "I am ready to get back to normal." And his normal is running these 8500LB beasts down the track like his hair is on fire. The run he had on Z Unit is one I won't soon forget, he took a similar left-center to center to right groove that pulled him to the line a bit and he had to get on the brake and still brought the tractor above the turbo and found a patch of dirt that carried ridiculous speed. He ended up 18 foot over his next nearest competitor, himself on his other tractor Dr LZ. On the front lines and the podium, this guy is doing it all. I asked Vern if he has ever seen anything like the run Jimmy had. "I've never seen anything like that." The concern for the Williams team and the help they had and utilized is the quintessential spirit of tractor pulling.

Notes from trackside. This Allison sled team is really starting to get the hang of this sled. The sled settings were really good all night aside from Vern laying down monster runs, they had the competition in that 300-310 range all night long. I feel these sled guys don't get enough credit. It needed to be said. Kudos to L T Ocker and the Laser as it was dialed in all night as well. Tanner Snelbaker was your ever-exciting, speaker of information, crowd exciter, free shirt slinging master of ceremonies, and kept the crowd in it for as long as he could. After the frame snap situation, the crowd bailed at 10:45 on the clock. I talked to Cory Forrester and I said, "This is the only thing I hate to see" but I get it kids get restless and the family is ready to go home. Cory said but, "Look at the show they got to see. They will not soon forget this event." No truer words will ever be spoken.
Videos coming soon...