(Pictures by Shayleigh Baker and Will Whitt; Article by Chris Baker) - My name is Chris Baker and I love truck and tractor pulling. I joined the WWPTV team back in 2017. We wanted to bring some coverage to our local leagues and pulls. Will loaned us some cameras and gave us the basics of what people want to watch. I actually help put on the pulls so, when she can go with me, my daughter Shaleigh comes along for the ride and presses the old record button. We don't get too many opportunities to spend with Will Whitt, the main man behind WWPTV, but when we do he is quick to discuss, teach, talk pulling, and how to help grow it. It is so easy for me to talk to people about pulling when I know there is a man that has the technical know how to back up what ever I talk about with promoters and pullers. I will be the first one to tell you I am huge pulling fan! I am not just a fan, I am a puller too. I run a International Hot Farm I call Honey Hush.
The 2018 pulling season will go down in the history books as a memorable season in pulling, but not many memories were made at the pulling track. The 2018 season was muddied by the shear amounts of rain we received. I still had a lot of ups and downs in the pulling world this year I as was lucky enough to be able to attend one session of pulls at Ocala Florida in February. It was my first pull that far south and I got to witness some new iron. I was able to hang out with a few of the Light Limited regulars I follow and film. You can watch some of the Ocala pull here: https://www.facebook.com/WillWhittProductions/videos/1831150006916584/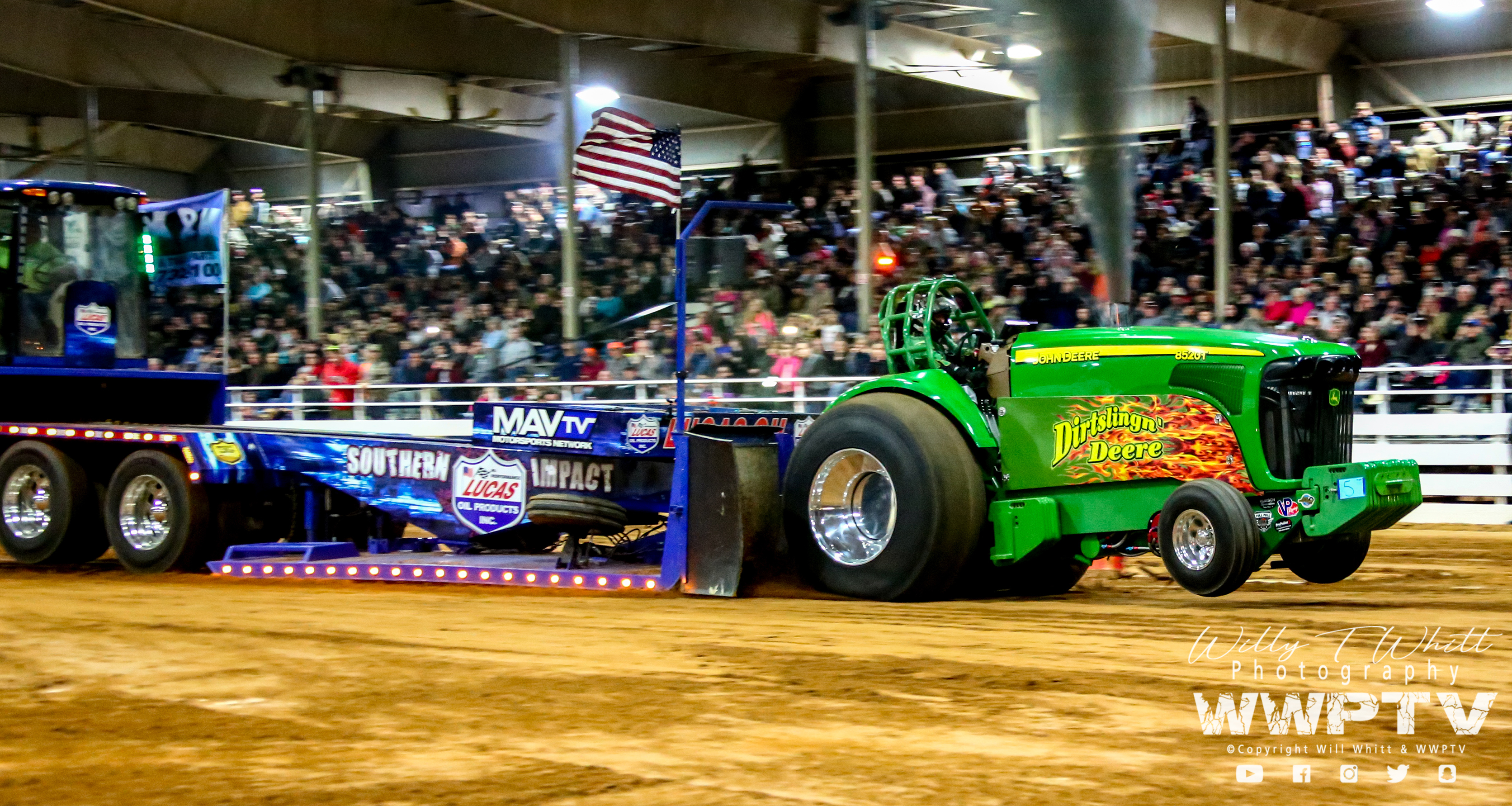 Another highlight of my year was watching the Gordyville. I wasn't their in person but about 7 or 8 of us all watched the Live Stream provided by NTPA Technical Services from our homes. We had a group chat to talk about the pull as it was happening with hall of fame pullers. It meant so much to be able to chat with the likes of Thurman Munford the "Mechanical Bull" and Ray Belack and "Ragin' Red". The moment that stood above all others was the Caleb Ogle story and flashback. I am starting to see why WWPTV is the team I want to be on.
Then came March and the local indoor pull in Harrisburg. Many of you don't know that I also help out on the Green Machine Light Limited team as much as i can. I enjoy helping more than you could ever imagine. The Keystone Nationals is a must go pull each year. I typically get 3 days off of work, but I had to go to work on Friday morning which led me to have to go down Thursday night, drive back home that night, and then drive back Friday afternoon. It was a pain to have to do this but I am glad it worked out because my 13 year old daughter who runs our camera and does most of the work at the pulls has been bugging me to go to Keystone for about a month or so. I wasn't going to take her but on my way home I caved and called her and told her to have her bags packed. I picked her up from school early and we would take the trip back to Harrisburg. She enjoyed herself and cannot wait to go back in 2019! Be a part of the show! Make sure to get your applications in early on this event. You can watch the Light Limited Turbo tractors here: https://www.facebook.com/WillWhittProductions/videos/1831093856922199/ and Mod Turbo tractors here: https://www.facebook.com/WillWhittProductions/videos/536614543469813/.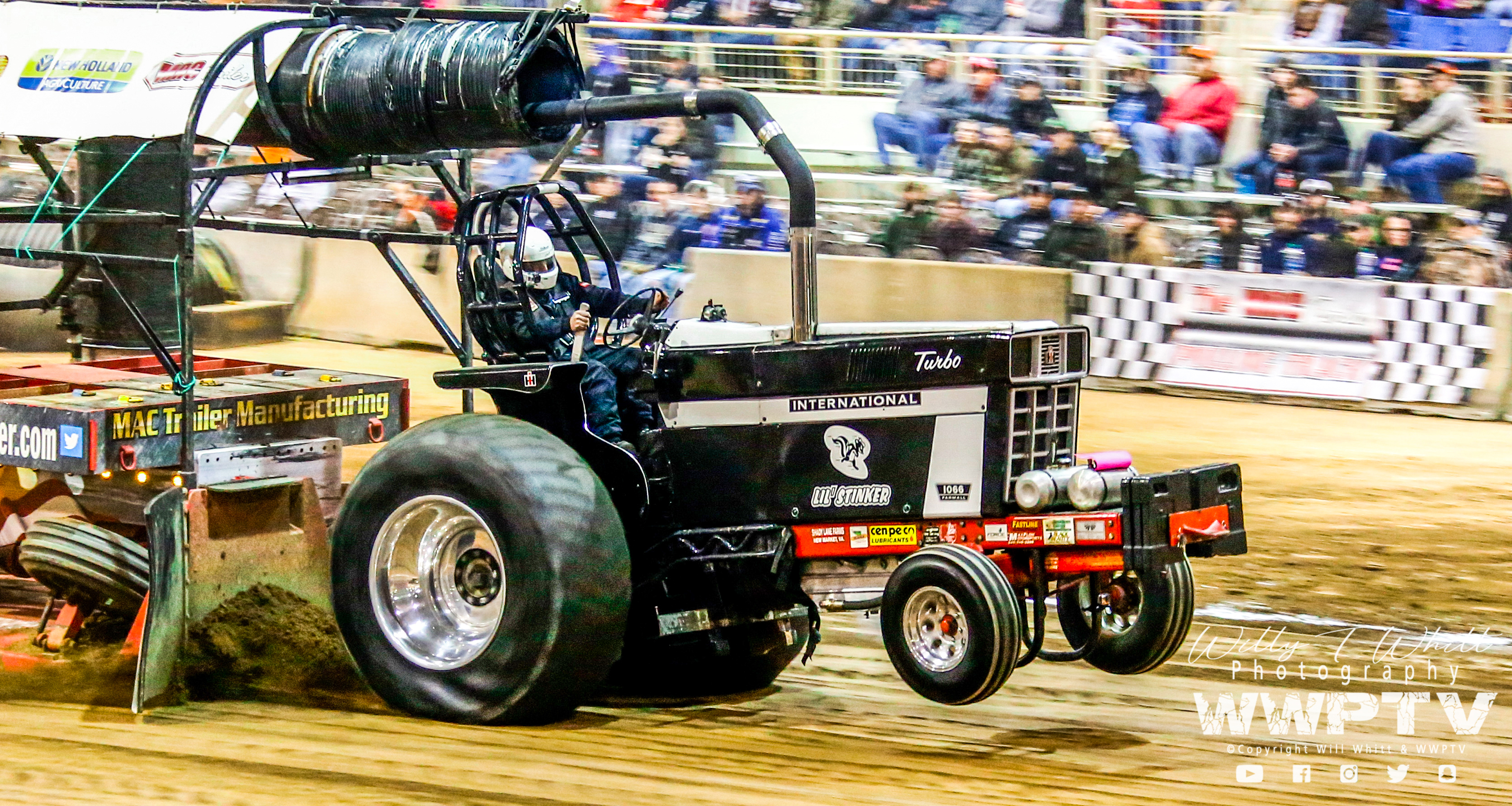 A few weeks later came the first outdoor pull and dirt drags of the year in Libertytown Maryland. Me and my daughter made the trip down to this cozy little town just a little north and west of Baltimore. I help with the pull track and typically run the scales at this pull as Kenny Rippeon Jr is the promoter of the this pull. So I help with this pull at both events they put on. If you want to talk about the best pull event food, this is it! I still haven't found any better tasting chicken tenders at any other pull than this one. I hear you reading, "Saying I have the chicken for you!" To which I say "Challenge Accepted." Willy T knows his BBQ, I know my chicken. Get us into your events and let us help promote and then we will see what is what!


After Libertytown, there was a few weeks without pulling and it was time to get my pulling tractor up and ready for the season. I worked on it a few days and stayed busy until the next event which was on Father's Day weekend. We have a small antique tractor club called the Twin Tier Antique Tractor Association that has an event every year on that weekend. They offer truck pulls on Friday night and tractor pulls on Saturday night. We went and filmed and recorded this event. It opened my eyes to an upcoming class in my area. It was a Hot Rod V8 Antique class featuring small block and big block engines. It has lots of potential and I can't wait to see where this class goes. So the day before Fathers Day, I made a last minute decision to go check out Bloomsburg to catch some East Coast Pulling. They had Modified, Pro Stock/Super Stock, Modified 4x4 trucks, as well as a local Street Diesel 4x4 class. This was a relaxing day as I sat in the grandstands with one of my long time friends and his lady and my godson. It is not often I am not down on the track doing something at a pull to keep the show rolling.

Burlington Pennsylvania is a small place off of beautiful Route 6 in scenic Bradford County. They have a spring and fall pull every year so I asked the owner of the track if we could come film as we did these events last year and he granted his permission to do so. This was a 2-day event with tractors on Friday night and trucks on Saturday night. Friday night show had some new iron I was excited to see, as well as some old friends, and that V8 Hot Rod class I alluded to earlier. The were 30 entries in that class alone! The truck show was also amazing, but fans were also treated to an exhibition of the Chain Reaction Diesel Super Stock from New York. Seeing the amount of support we received from New York trucks that came down to pull was great. The best part of Burlington was they decided to partner with our partners WWPTV. The had us do their flyers and Facebook promotion. This was big as this was our first event in the area that has used us to help them grow. I also am in charge of the tractor side of things at this event and let me just tell you, we have some big changes coming in 2019. As far as WWPTV in 2019, there will be two East Coast teams, and two West Coast teams. One team will follow drag racing and one team California pulling action. If you want to join the team, let me know ASAP.
Next came little trip to Shippensburg Pennsylvania for their July 4th pull sanctioned by Interstate Pullers. I was invited to check out the new Fast Forwards Pulling team's new shop just across town from the pull. You can find that team on Facebook (https://www.facebook.com/FastForwardPulling/). We help manage that page and it is a great way to connect with fans and potential sponsors. So we went to the shop first. When I say this is a world class shop, I mean it. It has room to work on the three vehicles they pull and customer vehicles as well. Thanks to Matt and Mark for having us! We teamed up with Willy T, Mr WWPTV, #BaldGuysRule, Mr. East Coast Beer Money. He had the filming well in hand, so I got to walk around, help teams get all set up and do what I do best, get to know pullers and their vehicles. This pull was a blur as it was over 9:30 pm with 40+ hooks!!!!

The next big event was the Lycoming County Fair in Hughesville Pennsylvania. This track has special meaning to me as it was the first win for the Green Machine of Kenny Rippeon Jr. Kenny scored his first ever win in the the Light Limited class there. Its also home to a few local pulling legends Ed Brewer and George Kuback. These NTPA pullers got dirty and dusty many years ago. These men were giants in the pulling world and helped get this pull started. This event was special night as Ed Brewer's grandson Kyle Day got his chance to pull his all new John Deere Hot Farm tractor. The Troy pull that was scheduled the very next Tuesday was rained out.
Back to Libertytown Maryland for their summer pull. I made the drive down to help with the pull and the biggest things that stuck out was the Farm stock class. They had a very strong class of 10+ in the class. I am a big Farm Stock guy! I like to see the black smoke roll out from the looks of a tractor that just has a slightly bigger turbo than stock and a few screws turned on the injection pump. So seeing these kinds of numbers in this class really had me pumped up for the night and truly made it memorable. Local puller Kenny on the Green Machine took a ninth place finish while Shane Scott took the Gary Cubbage owned New Holland TM130 303 feet to the top spot in the Light Limited class. Austin Stoner took Analyze This to the top spot in the 4500 Small Block 4x4 truck class. That same truck was driven by Jared Stoner to take the win in April. Talk about liking a track. Amber Blizzard also had a big win in the 7800 Modified tractor class. A solid night of pulling for the loyal fans in Libertytown.
The next pull was in a small town Millmont Pennsylvania. Millmont is just west of Mifflinburg. The pull was put on by the Union County West Fair Board. It was our first year to their photos and videos. I had the chance to catch up with a long time North Eastern Pennsylvania (NEPA) puller Jeremy DeLuca and he told me about his pro farm that he just got back on the track this year. It is a strong runner and we expect big things from that man and machine. We also caught up with Ray Belack and Josh Beachel. We were picking on John Forman about him having a green tractor that did very well this season and kept the red ones on their toes all season long. The thing about this pull was driving by their local farm equipment dealership and seeing a Farmall M on the lot. Shayleigh had been bugging get one all summer long. So I slammed on the breaks and turned in to look at it. Needless to say the next week it was home and she had her tractor to play with. Now the fun begins...
Next on the list was somewhat hometown fair at Harford Pennsylvania. Being that it is only 30 minutes from the house, this is a must go to event each year. Now, at this point of the season I had already threw the towel in on getting my own tractor Honey Hush track ready, so I didn't attend the day time Farm Stock pulls, I just went over for the Interstate classes at night. But the rain, that was blasting us all summer long, kept a bunch of the regulars home on this night. The Mod Turbo class was hosted by hometown boy Jeff Mikloiche. He hosted and won the class with his Demented Case Puma 140 going 331. Another hometown guy Adam Diaz and Whiskey Business went 324 for a solid second place. Guy Gocehnour was the long driver to this pull and went 285 and J. Howard Meredith Jr and Meredith's Agitator wen 310 for an impressive third. The open class was won by George Kuback on the Jolly Green Giant. The Giant screams of a 1970's Pro Stock. It is a 6030 with 680 cubic inch power plant. All the big modern day Pro Stock parts only lacking the modern safety equipment. George is upwards of 80 years in age and still pulls this along with his super moose 6030. The most memorable moment was seeing Alex Bonavita drive his dad, Stanley's tractor, the Brothers Dream Super Farm for the first time and place decently with heavy hitters pulling in in class namely Elbow Deep and Naturally Red.
Wyoming County Community Fair was the following Thursday and since Honey Hush wasn't ready to go pull, I figured I would get the new Farmall M out and go see what the tractor had for us to work with. So me and my step son went to try it out. Shayleigh was too young for their insurance to pull there. It didn't do so hot, but we had lots of fun. I think my step son is now hooked and possibly buying/building a puller in the near future. The night show wasn't as tractor heavy as in years past, however they did have 10 road semis pull. It was great to get to see them pull at the county fair again.
The next pull was located at a small spot just outside of Meshoppen Pennsylvania called Burr Hill. They are strictly an Antique and Garden Tractors location, so we took the old M up there and let the kids play. Shayleigh got her very first hook in the seat that day. She was grinning from ear to ear running that old M down the track. She cant wait to hook again in 2019 as the rest of the hooks for Burr Hill were, you guessed it, all rain outs.
The next place we attended was the Bloomsburg Fair for the Full Pull Productions pull. I have been going there since I was 18 and haven't missed once since. This year two 10,000 Pro Stock tractors from the Hoyt's stable showed up, a 2.5 truck called Old Ginny, and Carl Ankiewicz from Mountain Top Pennsylvania with his 3.0 Dodge pulling truck called Living on the Edge. Carl got the win in the RWYB Diesel 4x4 class. It was nice to see Buster Adams make the trip up from Maryland to pull in the Limited Pro Stock Semi class as well. The next scheduled events were Burlington and Burr Hill and both were rained out.
Being that Burlington was a wash, I was scrolling on the inter webs and found one more hook to go to. So we took a scenic drive through the Mountains of PA to Selinsgrove Pennsylvania to the Snyder County Pullers pull. This was a make up date and I had a lot of contacts that were coming to Burlington. So they asked me if they could with me. I said, "Give a few minutes. Let me make sure I can get you in down there." I got on the phone and we go the "Okay" to come pull. They had a record number of hooks, about 100, that night. It was a cold night, the coldest out door pull I have ever been to. I got to see many new pullers as well as a bunch of old ones. I even got to see vehicles run that I have known the person for years but never seen pull in person. The biggest highlights of that pull for me was seeing Cody Eisenhut's Smokin' Red for the first time run down the track, finally met Jeff Dan in person, and seeing randy rounds make the long trip down. I haven't caught up with him in about 2 years now. I also got to see Rebel Red Massey Ferguson Pro Stock in person! The Pro Stock/Super Stock class was loaded with 15 entries in it. It sure was a pull for the ages. To get see that much iron in one place at the same time takes a bunch of things to fall in to place and it did.2018 had a lot of good times but we also lost a few local pullers that I have watched since I was a little kid and got to know them as I grew older and moved from the bleachers to the side lines. This year we lost Ron Decker. He was a old Farm Stock then turned theirs into an Enhanced/Pro Farm. He was always at the local pulls and we would always hassle one another about tractors. He was die hard green and I am die hard red. We also lost Stanley Bonavita. Stanley was the driver of the Brother's Dream Super Farm. These guys haven't been gone long, but they are already sorely missed, not just in the pulling world, but life in general.
This is a year in review from the biggest things I remember happening in 2018. It took me 3900 miles of driving and countless hours to follow this sport, but I wouldn't trade it for anything. I'm already working on figuring what places want to go in 2019. I'm pretty sure my season starts with Gordyville and Keystone, but who knows where the journey will go from there.
Let me know what you thought of this article. What were some of your favorite memories on the 2018 pulling season? Lets us know in the comments below and use the social icons to share it if your enjoyed it.
Chris Baker